In order to choose the right size outerwear, here you will find all the size tables for men.
How do I measure the right size?
If you want to measure your size, it is best to do this while in your underwear. This improves the accuracy of the measurements. Use a measuring tape in centimeters (cm) and do not pull the measuring tape too tightly around you. The sizes relate to standard sizes.
Measurement and measurement instructions
Sizes and dimensions can vary per manufacturer, brand and shape.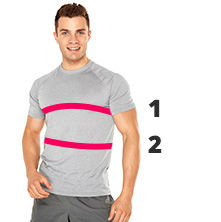 1. Chest size
To measure your chest circumference,
place the measuring tape around your chest at the level of the nipples.
2. Waist
To measure the waist, put the measuring tape around you
where the waist is narrowest.
Men's outerwear (sizes in cm)
International
Clothing size
Chest size
Waist
XS
44
86 - 89
76
S
46
90 - 93
80
M
48
94 - 97
84
M / L
50
98 - 101
88
L.
52
102 - 106
92
XL
54
107 - 109
98
XXL
56
110 - 113
104
3XL
58
114 - 117
110
4XL
60
118 - 121
116