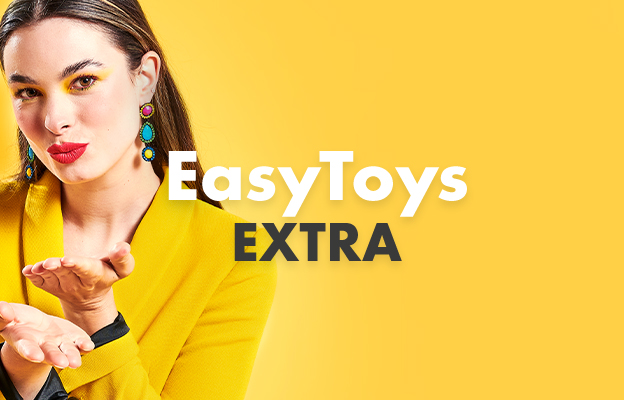 Reward yourself with EasyToys Extra
When you create an account at EasyToys, you are automatically a member of EasyToys Extra. You immediately receive 100 points and you save with every purchase. For every pound/euro you spend in our online shop, you automatically receive 1 loyalty point in your account. From 100 loyalty points you can redeem them for a discount on your order or opt for a free gift.
Create an EasyToys Extra account or log in to use your EasyToys Extra points and exclusive discounts
Exclusive discounts
Receive extra discounts on top of the existing discount as an EasyToys Extra member!
Collect loyalty points to get free gifts
Save points to receive sexy gifts and hot deals
Free shipping on selected products
As an EasyToys Extra member, you will get free shipping on selected items.
You are the first to know
Be the first to know everything about our best deals and newest products via our newsletter.
FAQ
How does EasyToys Extra work?
By creating an account with EasyToys, you automatically become a member of EasyToys Extra. You save for discounts, unique gifts and are the first to know about the many other extras your account has to offer. Think of changing products with an extra discount, free shipping on selected items and unique promotions!
Are there any additional costs?
No, creating an account is free.
How much are my EasyToys Extra points worth?
100 loyalty points have a value of £3/€3. Use your points for a discount in Pounds/Euros or choose from the many great gifts!
Can I choose how many EasyToys Extra points I want to redeem for a discount in Pounds/Euros?
Yes, you can use a minimum of 100 and a maximum of 500 points for discounts in Pounds/Euros. If you want to use your saved points, you have to indicate this yourself when you place your order. You can find your personal giftshop in your account. If you prefer to choose from our selected gifts, you can add a maximum of 1 gift to your order.
Are my EasyToys Extra points automatically credited to my account?
Yes, your points are automatically credited as soon as we have dispatched your package.
How long are my EasyToys Extra points valid?
Points are valid for 24 months from the moment they are credited.
Can I exchange my EasyToys Extra points for cash?
No, points cannot be exchanged for cash and can only be spent online.